Seaweed has been known for its health benefits as a super food, but did you know that it can also be made into a fabric? New technologies are constantly being explored and incorporated by the textile industry, thus, resulting in innovative textile solutions such as fabric made with seaweed.
Because of the lack of a commercial source for pure alginates, the first seaweed yarns were irregular in dimensions and had variable properties. Sodium alginate is the chemical that is derived from kelp. The production process, over several years, was improved after the introduction of a high grade sodium alginate.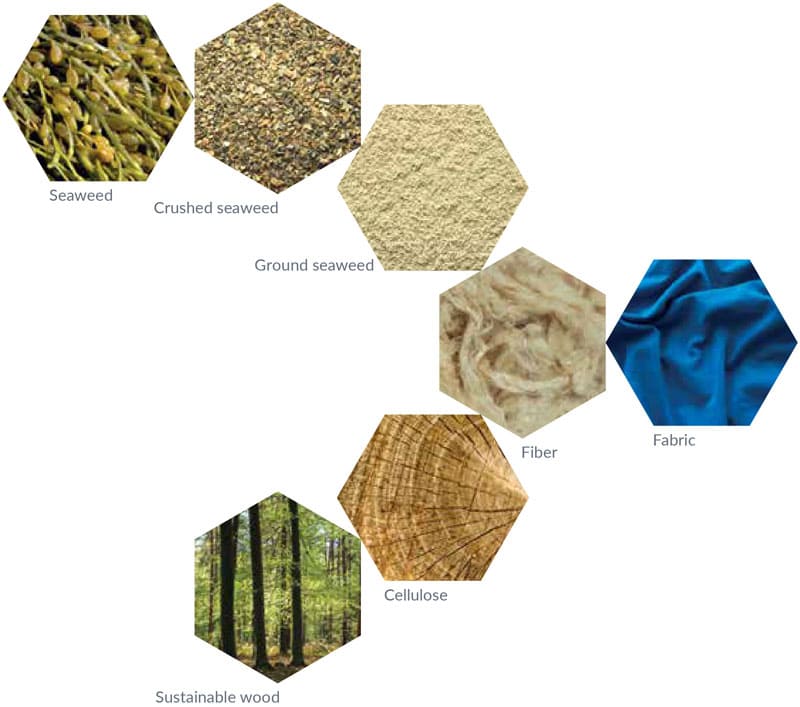 What is Seaweed Fabric Used for?
The breathable characteristics make fabric made with seaweed suitable for active wear, and it blends well with other fibers. Some brands are blending the seaweed with organic cotton and silk.
Pangaia combines lightweight, saltwater seaweed fiber with GOTS certified organic cotton to make t-shirts.
In 2019 Luisa Kahlfeldt won the Swiss James Dyson award for a reusable nappy made from SeaCell fabric. EcoRepel technology was used to make the nappy water repellent. The diaper is easily recyclable. SeaCell fabric used to make a reusable diaperAll threads, trims and labels are either recycled or sustainably sourced.
Lululemon Athletica uses SeaCell fabric in their VitaSea line of apparel and yoga clothes.
London fashion designer Leticia Credidio is using seaweed fabric in a collection of sleepwear and lounge wear. The textile is a blend of SeaCell seaweed and Oeko-Tex modal.
Why is seaweed fabric not more widespread? Large scale production of fabric made with seaweed is not available, making it a scarce fabric. That means it is quite expensive and has a long lead time, but it is suitable for use by slow fashion brands. Caring and cleaning of what is seaweed fabric is easy. It can be machine washed at 30°C, but do not bleach, tumble dry or dry clean.
Seaweed fabric uses cellulose fiber and it is made using the same lyocell process as Tencel and some bamboo. The properties of seaweed make it an inherently healthy source for skin friendly fibers and to become the fabric from the ocean.
Learn more: https://www.springtextile.com Or Spring Home textile video channel: https://youtu.be/Pw2hJIHtMRA  Also can contact Tina at: [email protected].