Mattresses and box springs are the base and foundation of any bed. The average lifespan for a mattress can be for over ten years. Luckily, there are many products available to help prolong the life of your mattress. Two of these products are mattress encasements and mattress protectors. While both are similar, this blog will help to educate you about the differences and help you decide which is best for your mattress needs.
Mattress Protectors
Mattress protectors are placed on the top of the mattress. It is similar to how a fitted sheet covers the bed. However, mattress protectors are still effective at acting as a barrier against liquid spills and other particles. They are also breathable which can help produce a higher quality sleep. Ideally, mattress protectors should be waterproof. They are ideal if you would like good quality protection against spills and harmful particles. Mattress protectors are easier to remove than mattress encasement, this flexibility gives protectors an advantage if you regularly plan on removing it for laundry.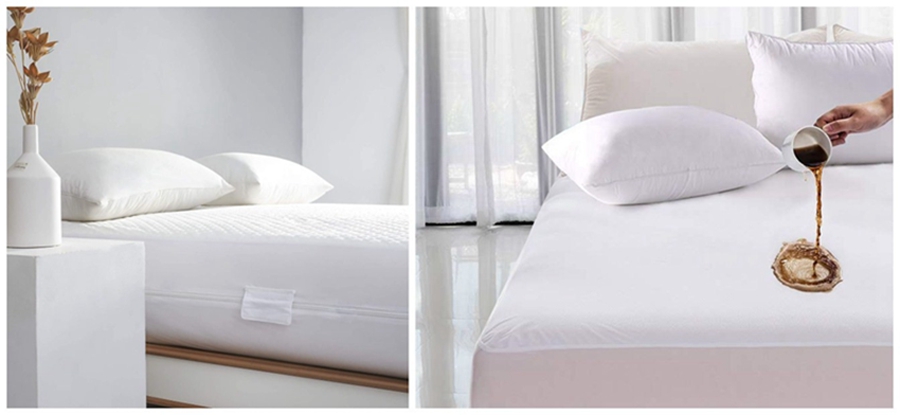 Mattress Encasements
Mattress encasements offer protection for the entire mattress. They are zippered which helps it to cover the mattress on all sides. Similar to mattress protectors, mattress encasements are also breathable which helps make sleeping more comfortable. Encasements are more durable than mattress protectors and can offer protection from bed bugs. Overall, a mattress encasement would be better if you want a higher level of protection. Mattress encasements are also better for those who have sensitive skin.
Protectors and Encasements are Important
While there are cleaning products to manually remove spills on a mattress, it is still challenging to remove stains completely. The mattress protector or encasement can help prevent this problem from ever occurring. As an hotelier, you will find it beneficial to have both a mattress protector and mattress encasement on the bed. This will help ensure maximum protection and make it easier for laundry purposes. The mattress encasement can remain on the mattress at all times while the mattress protector can be periodically removed to wash.
Spring HomeTextile offers a large selection of mattress encasements and protectors to choose from. A great mattress protector is the SpringHom® Mattress Protector. Learn more: https://www.springtextile.com Or Spring Home textile video channel: https://youtu.be/Pw2hJIHtMRA  Also can contact Tina at: [email protected].