Traditional cooling fabric has been achieved using chemicals that wick away sweat, keeping you dry when you perform which do not necessarily cool nor touch cool.. Our unique Smartkool® cooling fabrics provides a cooling solution that goes beyond traditional moisture management fabrics, derives its cooling function
from its special cooling yarns that mixing with heat conducting material- mica or
polyethylene, rapidly dissipating the body's excessive heat, accelerating moisture evaporation and cooling your body down. Ideal for hot sleepers. But be aware that it performs better than normal bedding products but won't keep you "ice cool". And if you are looking for waterproof cooling fabrics, the back can be coated with membrane which will repels all liquids yet breathable and let air passes through, also will keep you away from mites, bacteria and allergens.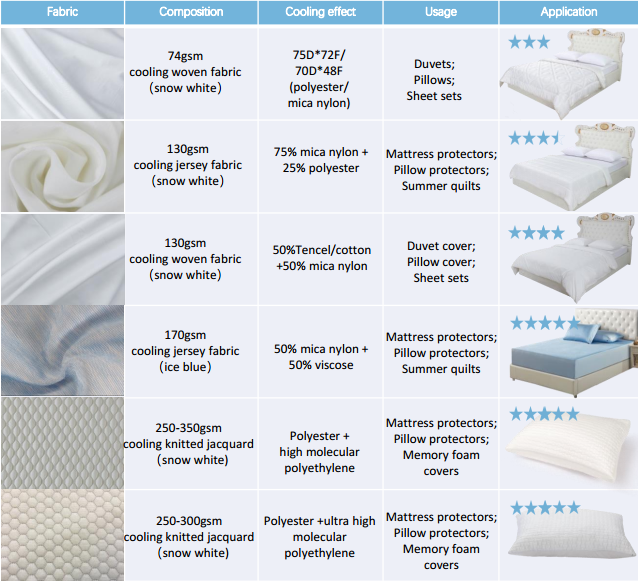 We have below cooling fabrics can be used for mattress protector /duvet/pillow protector/ sheet sets products.
If you would like to find out more cooling bedding, please visit our website: http://www.springtextile.com Or Spring Hometextile video channel: www.youtube.com/channel/UCMCz-yKQMYxA1e2Uscw5PHw Also can contact Tina at: [email protected]