When most of us think about staying in a hotel, the first thing that probably comes to mind is an image of luxury. But, even the fanciest hotels in the world are subject to messy mishaps, and there are a few things everyone should be surveying in their hotel room before they get nice and comfortable.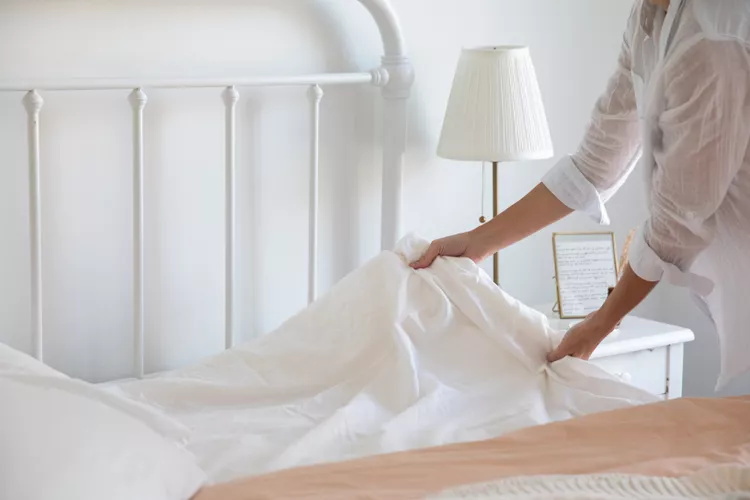 Check For Bedbugs
Even clean hotels with fancy sheets can have bed bugs — and that's because bed bugs have nothing to do with cleanliness and everything to do the fact they hitched a ride on some unlucky person's suitcase. When you first enter your hotel room, pull the comforter off the bed and check the corner seams of the sheets for signs of bed bugs or droppings. To be extra sure, pull the sheet off the bed and check the perimeter of the mattress and in the seams of the mattress for any dark spots, or bed bugs themselves.
Cleanliness
While hotel rooms are vacuumed, laundered, and wiped down in between guests, there are often certain surfaces that are neglected in the cleaning. To ensure that your room is spick and span, come prepared with some antibacterial wipes and spray and take matters into your own hands.
Remove Comforter
Certain quilts and comforters that require special washing don't get washed all that much in hotel rooms. To ensure you're not cuddling up in a dirty blanket, simply remove it from the bed upon arrival.
The Emergency Plan
Just in case of emergency, check out your room's fire and emergency escape plan upon arrival. The evacuation plan should be mounted on the wall or in plain sight, so it's always good to spend a minute looking it over and orienting yourself.
Wash The Glassware
If you plan on using the cups and wine glasses that come with your room, wash them with hand soap and then rinse them under the hot water for a minute or two first. The same goes for the coffee pot. If you plan on drinking from it, wash it first.
Learn more: http://www.springtextile.com Or Spring Hometextile video channel: www.youtube.com/channel/UCMCz-yKQMYxA1e2Uscw5PHw Also can contact Tina at: [email protected]