It's way too hot, and I'm having a hard time sleeping lately. What sheets will keep me cool and comfortable all summer long?
The dog days of summer are upon us. Even with the air conditioning on, the warmth and humidity of the day can still interfere with your ability to sleep comfortably. So which sheets are best for summer? We've broken down our favourite types of sheets – Cotton Percale, Cotton Satin, and Linen – and exactly what makes each of them unique.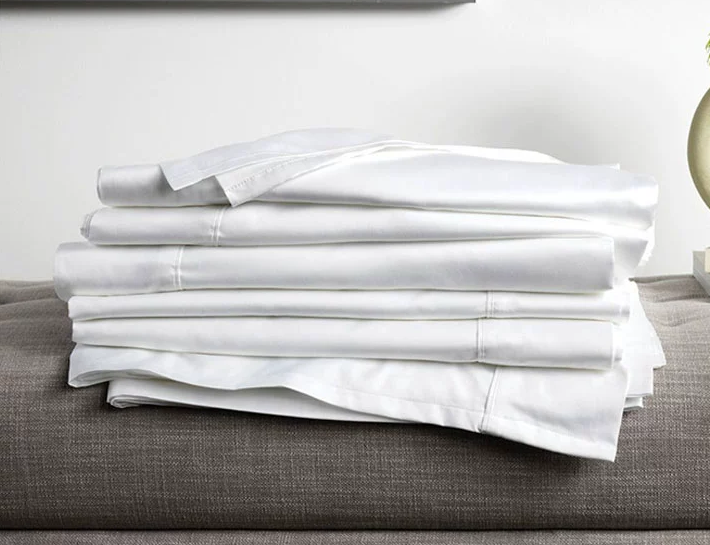 Cotton Percale
Percale is known for being crisp and cool, perfect for summer sleeping. The way the fabric is woven is the key to it's cool-to-the-touch feel; percale is woven in a basic criss-cross pattern, just like your favourite classic button down shirt. You can discover all of our Cotton Percale sheets here.
Cotton Satin
Cotton Satin is made from pure, natural cotton, only it utilizes a different method of weaving, This process gives the fabric a sheen and a silky feel. This doesn't mean that satin is better than percale – they both provide a unique experience.
Linen
A third option, which you may not have considered, is linen. Linen is a natural fibre, derived from the flax plant. Linen is the world's oldest fabric, and for the past 8,000 years it has been loved for its natural breathability, high moisture absorbency, and it's crispness, which makes it cool and optimal for summer sleeping.
Sleeping with the right sheets can make all the difference and keep you cool all summer long.
Learn more: http://www.springtextile.com Or Spring Hometextile video channel: www.youtube.com/channel/UCMCz-yKQMYxA1e2Uscw5PHw Also can contact Tina at: [email protected]