Isn't it great to throw yourself into cozy sheets after a long, tiring day of work or travel? However, before diving face-first on those seemingly spotless beds, it would be best to make sure that they are clean and sanitary.
High-end luxury hotels probably change bed sheets daily or after every checkout. However, some budget hotels may have a policy of changing sheets every after few days. Upon arriving in your hotel room, check the bed first. Inspect the sheets, the headboard, as well as the top and bottom of the mattress. Strip off the bed cover.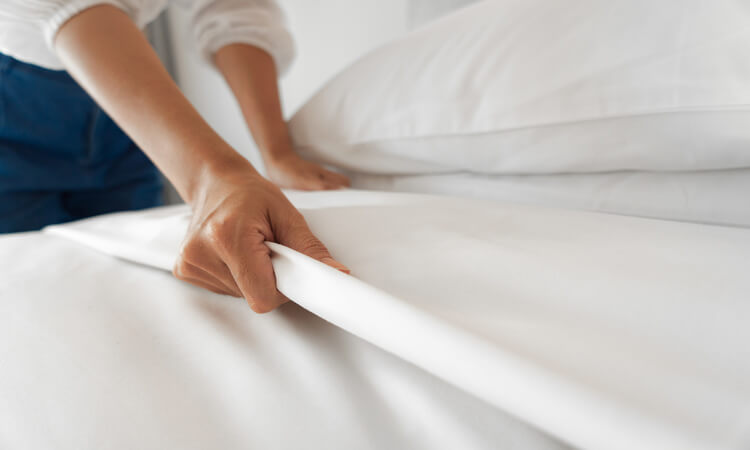 How to tell if hotel sheets are clean? Check the bed sheets and pillowcases for noticeable creases in the middle. If they have those, the layers may have only been remade, not changed. Also, check for stains, hair strands, and other visible grime. If need be, ask for new ones.
Don't let unsanitary sheets ruin your holiday fun. Here are two essential tips to have a more pleasant hotel stay.
Book a hotel or any budget accommodation based on guest reviews. Most hotels have websites that feature guest ratings and feedback. Pick the one with positive reviews on cleanliness and service.
You can bring your blankets and pillowcases. If you love to pack light, there are handy travel sleeping kits that you can purchase for your next trip. This way, you don't need to worry about sleeping in unsanitary beds, especially in places with notorious budget accommodation.
Express your concern to the management if you see visible grime and filth, or you can just spread your own sheets and let go of your hotel's minor failures.
Learn more: http://www.springtextile.com Or Spring Hometextile video channel: www.youtube.com/channel/UCMCz-yKQMYxA1e2Uscw5PHw Also can contact Tina at: [email protected]