In the previous blog, we talked about how to choose the appearance of mattress topper. Today, we will continue to discuss in depth how to choose the material and function of mattress topper.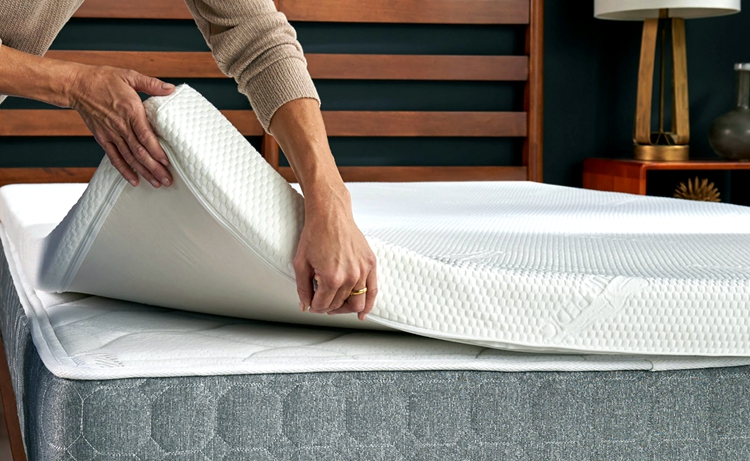 How to Choose a Cooling or Heating Mattress Topper?
Wool or down are cooling mattress topper materials. Memory foam and latex foam are heating and warming mattress topper materials.
If you want cost-effective and warm, consider polyester filled and cotton case toppers. The thicker and denser they are, the warmer they will feel.
How to Choose Mattress Toppers for Support and Pain Relief?
Memory foam and latex are the most effective materials for providing support, firmness, and pain relief. They provide comfort and reduce pain by acting as a cushion for different pressure points in your body. Side sleepers should consider buying thicker options, of at least 3 inches, to provide more support for your back and limbs.
Natural latex is a good option for pregnant women as it prevents heating to remains cool when body temperature increases and bounces back up when it is not in use.
Memory foam removes all pressure points and distributes body weight evenly, eliminating pressure on various areas of the body, so it is the best choice for elderly people.
These articles on mattress toppers for reducing shoulder pain and choosing a mattress topper to help hip pain may also be valuable for you. Did you know that choosing the right mattress topper can also help reduce neck pain?
If you are being exhausted all day because of the state of your current mattress, instead of going out and spending hundreds of dollars over a new one, invest your time in doing some research on mattress toppers. Choosing the most suitable one for your needs could literally change your quality of life and sleep.
If you have other sleep troubles, please let me know and I will answer you in the following blogs.
Learn more: https://www.springtextile.com Or Spring Home textile video channel: https://www.youtube.com/channel/UCMCz-yKQMYxA1e2Uscw5PHw Also can contact Tina at: [email protected] to learn more about the green bags we have available.