Getting a good night's sleep in the heat of summer can sometimes feel impossible. Especially with an air conditioner or fan running all night, it can be too warm for a duvet but too cold to sleep with just a sheet. Not to worry – we have the perfect solution for you!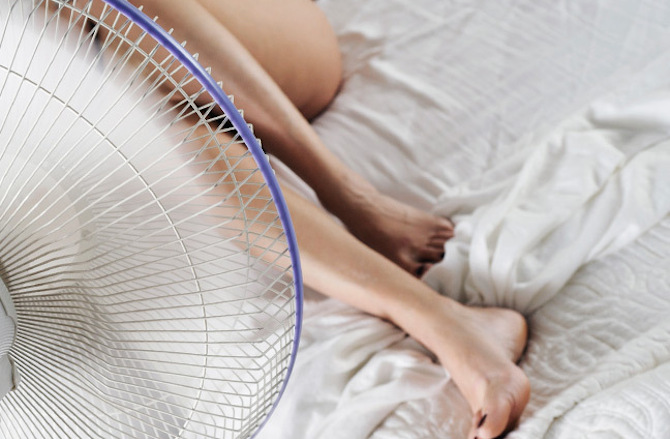 Cotton Sheet Sets
Cotton percale sheets are a great go-to solution for a cool sleep. When you get into a bed with 100% cotton percale sheets, it's cool to the touch. Another great option is linen or a linen/cotton blend. Linen – which comes from the flax plant, is particularly good at wicking away moisture, helping to cool you down on the hottest of nights. The linen fibre is thicker than cotton, giving linen a distinct texture and rumpled, relaxed look and feel. A third go-to for keeping cool are bamboo or bamboo-blend sheets, as bamboo is another fibre that's exceptional at wicking away moisture and helping to keep you cool. If the crispness of percale or texture of linen aren't your cup of tea, the fine and silky feel of Bamboo may just be the ticket.
Layer Up With Blankets
You can layer bedding in the same way you layer your clothing – the idea is a mix of practical pieces to keep you comfortable all season long!  A cotton coverlet can easily be removed for a touch less warmth, layered up for a touch more warmth, or even used on its own for ultimate airiness on the hottest nights of the year.
Cooling Quilted Mattress Pad
Our cooling quilted mattress pad is specially designed to help regulate body temperature and keep you cool when the nights are hot. The cooling quilted mattress protector doesn't retain heat and is very breathable, you can always find a cool spot on the bed.
Not only are they breathable and washable, but they're available in a variety of colours, textures, weights, and sizes to match any bedroom decor.
Learn more: http://www.springtextile.com Or Spring Hometextile video channel: www.youtube.com/channel/UCMCz-yKQMYxA1e2Uscw5PHw Also can contact Tina at: [email protected]