Choosing the right pillow can greatly improve your quality of sleep because it helps your sleeping posture and your overall health. We all need a good night's sleep, right?
Who wants to wake up in the morning with a crick in your neck or back pain? If you wake up in the morning and say, "I slept funny my neck and back hurt", chances are you are not sleeping on the correct pillow. Having the correct pillow for your sleep habits helps with your posture and you will wake up refreshed without those aches and pains.
The right pillow will help keep your spine stay in alignment while you sleep, regardless of your preferred sleeping position. With a pillow that supports healthy posture, your neck, shoulders, back and hips will get the support they need.
Today I'm going to introduce you a Sustain® exclusive pillow, the components of:
Top fabric: 400gsm Smatkool knitted Jacquard
Bottom Fabric: 280gsm Tencel knitted jacquard
Fill: 500g Dupont Sustain fiber
Finish: white sateen piping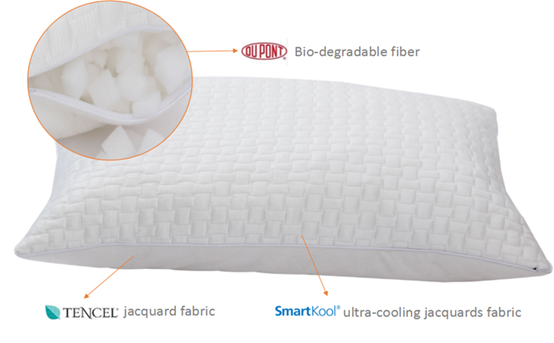 Sustain® exclusive pillow is Breathable and super soft, this pillow is made with a combination of Tencel and a cooling fabric for a more comfortable fit on the head. It can be used in all seasons, especially in summer, this pillow can completely bring relaxation. Pillow core contains bio-degradable fibers, benefits to sensitive skin, designed for people with allergies and fever, can reduce hot flashes; environmentally friendly.
Regardless of your sleeping position, spring textile has a pillow that is perfect for you! Start your day refreshed!
Learn more: https://www.springtextile.com/sleep-smarts/products-172.html, Or Spring Home textile video channel: https://www.youtube.com/watch?v=WOLmw_U3tcM,also can contact Angel at: [email protected].