Hospital bed pads are used to protect mattresses from urinary incontinence and other liquid accidents. Depending on your unique and individual needs, There are disposable and reusable incontinence pads on the market.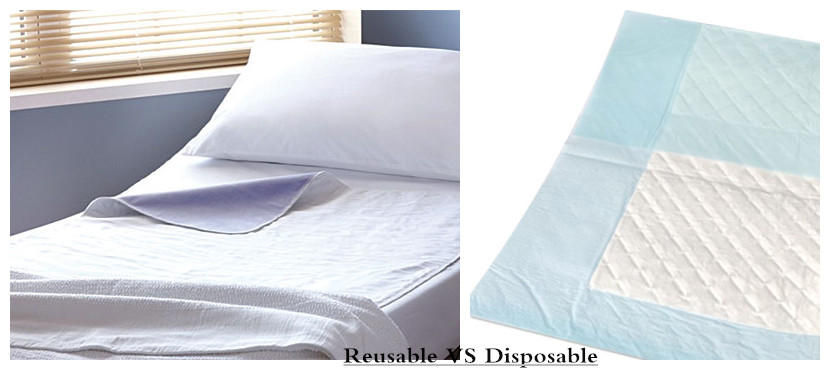 Washable bed pads, generally, are made in a multilayer construction that allows heavy absorbency. In addition to being highly absorbent, reusable bed pads are machine washable, which can save you money long term. If you are looking for a temporary or hassle-free solution to urinary incontinence, you should check-out disposable bed pads.
A disposable mattress pad, perfectly complements specialty beds to provide maximum air circulation. In addition to being highly breathable, disposable mattress pad are incredibly easy to dispose of once a patient or resident has soiled it.
Both disposable and reusable underpads are advanced. Disposables have a super-absorbent polymer in the pad to absorb a patient "void" upon contact. Often disposables have small holes to allow for vertical airflow, which is essential to having an underpad on a low air loss mattress.
The polymers activate completely on void and pretty much block the small holes completely and don't allow for additional moisture. Also, they may tear after voided upon or tear when trying to position the patient. And there's a tendency to use more than one, to layer.
On the reusable side, the more absorbent pads have soft facing, which is gentle on patient skin. Most have a synthetic quilter inside to absorb moisture.
The way this works, the polymers in the disposable capture the moisture and hold it in the middle of the pad. In the reusable, the synthetic soaker absorbs fluid and then pulls it away from the center to the edges, away from the patient's body. While it does not have vertical airflow, because it has a barrier backing to prevent leakage, it does have horizontal airflow, breathability allowed by three layers of construction.
It's no doubt that disposable and reusable underpads are comparable in absorption. However, disposables add medical waste. Healthcare personnel aren't used to comparing the savings between a reusable and a disposable, and the cost savings are substantial.
A basic comparison between the cost of a disposable pad and that of a reusable pad comes to $1.52 for the disposable compared to 52 cents for the reusable. That includes storage, handling and processing of the reusable pad, which lasts about 100 uses, compared to the single-use disposable.
The issue of conversion from single-use, disposable underpads to reusable in healthcare facilities is a major one. It's a challenge for linen services to educate customers why reusable underpads are better in patient care.
Learn more about reusable pads, please visit our website or you can contact me at: [email protected]