Never go flat pillow is with some high loft baffle boxes, divided into individual cells along the top surface of the pillow for consistent support and cloud-like comfort.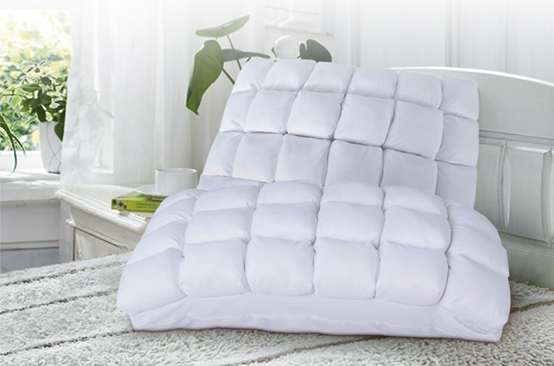 The dual-sided pillow features a hybrid of technical textiles and premium fills, fusing wellness with cooling comfort. The pocketed construction on the top of the pillow prevents the designer alternative fill from bunching, ensuring a consistently cushioned sleep surface. You can adjust the height of this pillow by simply removing the insert for a lower loft. This design provides a physical barrier that resists dust mites, bed bugs and allergens.  High loft baffle boxes design help tunnel heat away from the neck, providing a refreshingly cooler sleep surface.
The design of this pillow will brighten your eyes and eliminate the fatigue of ordinary pillows, and it is also rectangular in design, which can support the head without being under the shoulders, providing continuous support all night. The rectangular pillow is narrower, so you can more easily turn over at night without waking up. If you are the type that moves frequently while sleeping, then this uniquely designed pillow is for you! In the next blog, I will recommend to you this new pillow that our Spring Home Textiles sells well.
Learn more: https://www.springtextile.com/sleep-smarts/products-163.html, Or Spring Home textile video channel: https://www.youtube.com/channel/UCMCz-yKQMYxA1e2Uscw5PHw, also can contact Angel at:[email protected]