When the temperature drops sharply, you'll know it's time to wrap up in a layer of padded clothing that will keep you warm during the day, on winter nights depend on the bedding you choose. With the right bedding, you can get a good night's sleep under the covers no matter the weather.
Flannel is a timeless winter must-have that keeps us always comfortable. Beloved for its thermal properties, loved for its insulating properties, flannel is a fabric best suited to cooler climates and equally chilly sleepers. Its incredible heat storage properties lie in its magic fibers, soft and fluffy threads that trap air like your own personal insulation.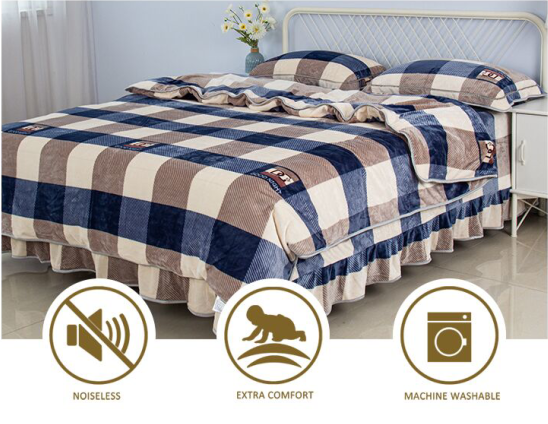 It is a perfect choice to use fleece sheet set in winter, and it is one of the secrets to have a good sleep. The fleece sheet set are soft to the touch and will not generate static electricity. Using it in winter can not only protect our skin, but also provide warmth and heat, allowing you to have a good night's sleep. Today, I would like to recommend one of our milk fleece sheet set, which has the following characteristics:
1. Fashion printing design, safe and eco-friendly, not easy to fade.
2. The fluff is short and dense, thick and flat, and with good warmth retention effect.
3. The fabric is implanted with conductive thread, which is not easy to generate static electricity and protects delicate skin.
4. Suitable for winter use, soft, skin-friendly and durable.
5. Metal zipper design, easy to take off and machine wash.
If you are interested in our fleece bedding , please contact us.
Learn more: https://www.springtextile.com/multifunctional-blanket/  Or Spring Hometextile video channel: https://www.youtube.com/watch?v=-SDLnxXABgY, also can contact Angel at: [email protected].