How we measure?
The Q – max test is the most common and acceptable way to measure the instinct cooling effect in textile industry. It measures the instantaneous value of heat loss (w/cm²), which happened in the simulation of skin contacting with cooling fabric.
Higher the Q – max value, better the cooling effect.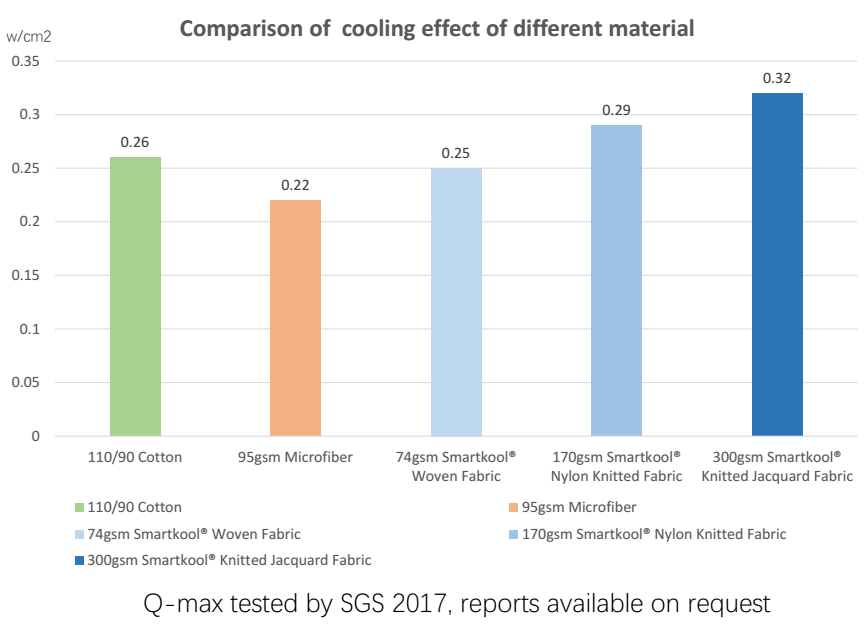 Why Choose Smartkool® Fabric Mixing With UHMWPE?
Smartkool® fabric provides a cooling solution that goes beyond traditional moisture management fabrics. It derives its cooling function from its special cooling polymer yarn that mixing with heat conducting material- mica or polyethylene, rapidly dissipating the body's excessive heat, accelerating moisture evaporation and cooling your body down.
Ultra high molecular weight polyethylene (UHMWPE) has extremely long chains of polyethylene, which all align in the same direction. Its molecular mass is up to 3.5-7.5million amu, which is far higher than polyester yarn with a molecular mass about 20000.
When used in fibers, the polymer chains can get a parallel orientation greater than 95% and a level of crystallinity from 39% to 75%.
Smartkool® fabric roughly divided into two categories: Smartkool® jersey and Smartkool® knitted. They are made into mattress protectors, mattress toppers, duvets and pillow protectors. If you would like to learn more about the cooling mattress  pads, please visit our website. If you are a importer or wholesaler, please contact to get a quick feedback at: [email protected]~~Tina